General Information
Recycling: you can sort trash into biowaste, glass and metal separately from mixed waste. You can leave glasses and metals, as well as empty plastic bottles in the kitchen or on the terrace, we will recycle them for you. There are mixed waste and bio-waste containers at the beginning of the cottage road.
The floor of the shower is often wet because the condensation pipe of the ventilation system leads from behind the shower glass through the floor.
Do not turn off the heat pump. Instructions for use can be found in this folder, and if you need more information, call! The automatic setting can only be used in summer.
In winter, the10 km Kitkajoki wilderness trail runs on the other side of the river. There is also an easier 2.5 km trail. There is also a sled route at the intersection of Sallantie and Liikasenvaarantie, near the church. Track and toboggan route maps and their maintenance status can be seen at https://kuusamo.fluentprogress.fi/outdoors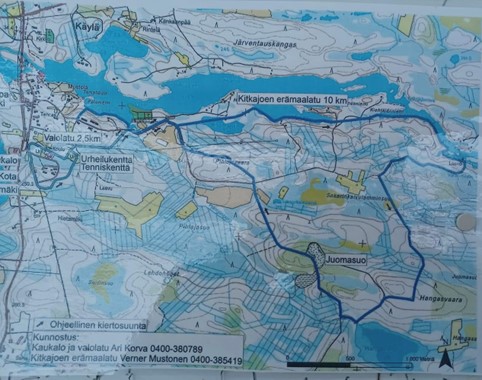 Winter Guests' Checklist!
If you have reserved a hot tub or outdoor jacuzzi for your vacation, please read the instructions carefully and contact us if you have any questions! Let's make sure that the pipes or the stove are not frozen when it's time to go home!
Roads and parking lots are plowed with tractor power after snowfall. The tenant himself keeps the outdoor stairs and terraces clear of snow and the passageways open. Snow shovel, snow shovel and brush can be found in every cabin!
When you notice that a tractor is coming to do snow work in front of the cottage, please be kind and move your car.
If you have reserved ski tickets for your holiday through us, please remember to leave them at the cabin on the day of departure!